Kozel Is Opening This Year's Grilling Season With An Introduction Of "The Eleven" In New, Practical Packaging
19.3.2012
Velkopopovický kozel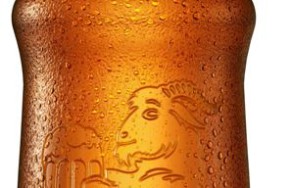 Spring is here, time for grilling, camp fires and getting together with friends outdoors. To mark the occasion, Velkopopovický Kozel has prepared a novelty. The favourite "Eleven," that is made from three kinds of malt with a slight boost of gentle bitterness of hops, will be now available in practical, 1.25l plastic bottles. "The bottle fits two beers plus some for basting meat on a grill. Outdoor grilling is the ideal occasion to buy beer in plastic packaging," explains Velkopopovický Kozel Brand Manager Vladimír Vaněk. The smaller Velkopopovický Kozel 11° bottle is easier to hold, especially for women. It's also a boon to hikers who like to pack their favourite Kozel for the trip.
Plastic packaging of beer has many advantages. Plastic is practical, durable, and easier to manipulate. The popularity of plastic beer packaging is on the rise with Czech consumers. By the end of 2011, plastic bottled beer represented 16% of the total packaged beer sold, a higher percentage than the share of beer in cans. These sales may be due to the weather and the coming of the grilling season. The market share of eleven degree beers is steadily expanding as well. Kozel is just answering the call of its consumers. The well crafted design of the new Kozel bottle is the work of designer Jana Čapek. There are many requirements connected with the production and design of plastic bottles. The product must comply with many technical parameters, it must not collapse on a production line, it must withstand the filling process, survive transport, and must also satisfy difficult ergonomic and aesthetic criteria.
Demand for eleven degree beers is on the rise. Velkopopovický Kozel is quickly reacting to consumers demands, and therefore Kozel 11° marks the sharp rise in popularity among Czech beer lovers during the past couple of years. And its perfectly fine–tuned taste did not go unnoticed at many Czech and international competitions:
– 2011 – Winner, MF Today Test in category of 11° beers
– 2011 – Winner, Pivex Cup in category of 11° beers
– 2010 – Second place, Australian Beer Awards
– Second place, Czech Beer of the Year competition
For more information contact:
Vladimír Jurina, Brand PR manažer,
e-mail:
Notes for editors:
The Velké Popovice brewery brewed their first batch of beer on December 15, 1874, and just one year later, they were brewing and selling 18,000 hl of beer. Only few years later, the brewery became the third biggest brewery in the country. They were especially known for their dark, heavy beer.
The Velkopopovický Kozel brand is a staple of today's beer market. The brand boasts the most significant rise in Czech as well as foreign markets. It is a brand with the most dynamic rise on Czech as well as foreign markets. Velkopopovický Kozel Dark is the leader among dark beer brands in the Czech beer market, and the best selling Czech beer abroad.
The Velké Popovice brewery has been a part of the Plzeňský Prazdroj Company since 1999.
With total sales of 9.9 million hectoliters during the calendar year of 2010 (including licensed production abroad) and with exports to more than 50 countries worldwide, Plzeňský Prazdroj Inc. is the largest beer producer in the region and the biggest exporter of Czech beer.
Plzeňský Prazdroj Inc. is a member of the SABMiller plc. group. Pilsner Urquell is the international flagship brand of the SABMiller brand portfolio.
SABMiller is one of the world's biggest beer brewing companies with beer brewing activities or distribution in more than 60 countries across six continents. SABMiller's brand group includes such important brands as Pilsner Urquell, Miller Genuine Draft, Grolsch, Peroni Nastro Azzurro, and many other successful regional brands.
You can find more info about the most recent activities and projects supported by Velkopopovický Kozel brand at www.kozel.cz.
Praha