The Day of Kozel Is Here Once Again
6.5.2013
Velkopopovický kozel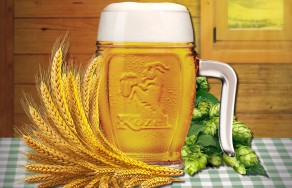 Outdoor grilling that is unthinkable without Velkopopovický Kozel is the symbol of this year's Day of Kozel. One of the attractions is going to be a record-long kielbasa that will measure 187.4 metres, and that will be entered into Czech Book of Records. The kielbasa will be prepared by a master butcher; a true master of his craft. The most important ingredient in this creation is obviously beer, namely Velkopopovický Kozel 11°. The exact recipe for this grilled kielbasa will be available on May 16. It will be selected from three final original recipes, which will be evaluated by an expert jury together with faithful fans of Kozel beer directly in Velké Popovice brewery. The beer kielbasa will be then grilled by master grillers on the Day of Kozel on the longest grill in Czech Republic – 21.25 metres.
The main attraction is going to be the unfiltered lager Kozel. The unfiltered lager Kozel is known for its higher content of brewer's yeast and other natural materials that come from hops and malts. Unlike filtered beers, it is known for natural murkiness and full, distinguished taste. The unfiltered lager will be available exclusively during the Day of Kozel, and later in limited quantity for the duration of one month in selected pubs around the Czech Republic.
A rich music programme will be available to support the good mood. There will be more than 5 bands and singers, all lead by No Name band. Visitors will have a chance to see also Blue Effect with Radim Hladík, and Olympic Revival.
It is a tradition now that the Day of Kozel is also a celebration of honest hand crafting. Even the 21st annual celebration of Velké Popovice beer will be accompanied by shows of various crafts. Visitors will have a chance to test their handiness. Visitors will also have the opportunity to get to know the skills of Popovice brew masters as well as the history and present happenings of the brewery during tours that will be available to visitors for the entire day.
The list of crafts presented during the day of Kozel:
Coopers
Wood makers
Potters
Artisan blacksmiths
Wooden furniture makers
Cutlers
Tinkers
Basket makers

Come to Day of Kozel and reward yourself with freshly drafted Kozel and grilled specialties prepared with beer!

For more information:
Vladimír Jurina, Brand PR manager
tel. +420 724 617 886
e-mail: 

Notes for editors:
The first batch of beer was brewed in Velké Popovice brewery on December 15, 1874, and just one year later, 18 000 hl of beer were brewed and sold. Only few years later, the brewery became the third biggest brewery in the country. They were famous especially for their dark, heavy beer.
Velkopopovický Kozel brand is irreplaceable on today's beer market. It is a brand with the most dynamic rise on Czech as well as foreign markets. Velkopopovický Kozel Dark is the leader among dark beer brands of Czech beer market, and the bestselling Czech beer abroad.
Velké Popovice brewery is a part of Plzeňský Prazdroj Company since 1999.
With its total sale of 9,9 millions of hectoliters during the calendar year of 2012 (including licensed productions abroad) and with its export to more than 50 countries worldwide, Plzeňský Prazdroj Inc. is the prominent beer producer in the region and the biggest exporter of the Czech beer.
Plzeňský Prazdroj Inc. is the member of SABMiller plc. group. Pilsner Urquell is the international flagship brand of the SABMiller brand portfolio.
SABMiller is one of the world's biggest beer brewing companies with beer brewing activities or distribution in more than 60 countries across six continents. SABMiller's brand group include such important brands as Pilsner Urquell, Miller Genuine Draft (draught), Grolsch, Peroni Nastro Azzurro, and many other successful regional brands.
You can find more info about the most recent activities and projects supported by Velkopopovický Kozel brand at www.kozel.cz.
Praha