Plzeňsky Prazdroj Team Has a New General Manager Paolo Lanzarotti
26.8.2013
Uncategorized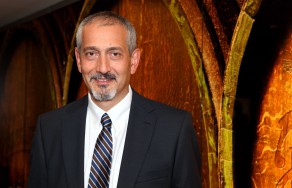 Paolo Lanzarotti is 47 years old and he is originally from Great Britain. He is of British and Italian decent. He studied at King's College at London University. He also holds an MBA from the Open University in England.
He has been active in the beer brewing industry for 9 years. He came to SABMiller in 2005 and held several commercial posts in Italy. After that, he assumed the post of general manager in Slovakia and then in India. He led Brewery Topwar in Slovakia for one and half years. From there he travelled to India where he managed the revitalization of the Indian SABMiller company, which included 14 production plants.
"I think that beer is a fantastic product and I'm really proud to have the opportunity to manage this company, which is the leader in the beer market in a country where beer is a part of the national heritage, and where all citizens are proud of this Czech national symbol. People here understand its quality, as well as the technology of its production, they are interested in beer brands more than people from other cultures anywhere in the world," said Paolo Lanzarotti.
In his previous commercial career, Paolo Lanzarotti worked for 18 years in oil and gas industry at ExxonMobil Comp. in Great Britain, Italy, India and France.
Paolo Lanzarotti is married with two daughters. He speaks English, Italian and French.
Notes for editors:
With its total sale of nearly 9.9 million of hectoliters during the calendar year of 2012 (including licenced productions abroad) and with its export to more than 50 countries worldwide, Plzeňský Prazdroj Inc. is the preeminent beer producer in the region and the biggest exporter of the Czech beer.
Plzeňský Prazdroj Inc. is the member of SABMiller plc. group. Pilsner Urquell is the international flagship brand of the SABMiller brand portfolio.
SABMiller plc is one of the most significant world beer companies with 70 thousand employees in 75 countries around the world. It offers more than 200 beer brands including the world renowned brand such as Pilsner Urquell, Peroni Nastro Azzurro, Miller Genuine Draft (draught) a Grolsch, as well as important local brands such as Aguila (Columbia), Castle (South Africa), Miller Lite (USA), Snow (China), Victoria Bitter (Australia), and Tyskie (Poland).
Contact:
Vladimír Jurina, press contact
Plzeňský Prazdroj
+420 724 617 886
Plzeň