Celebration of Hops: Czech Republic Knows Its Champion in Picking the Green Gold
26.8.2013
Gambrinus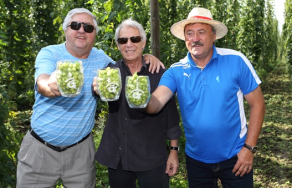 Pavel Zítek, marketing manager of the Gambrinus brand, also partook in the event. He opened the championship with these words:  "It is thanks to Czech hops, with a quality that is valued by the entire world, Czech beer has gotten its important name. The bitterness of our beers in comparison with those from abroad is the highest and that is for one reason – we use more hops. Czech beers have a full taste, they are rich, and for that you need more hops."
After that, 23 contestants began their task of picking several dozens of hops and by doing so symbolically supported this year's harvest, which is evaluated at 4,700.00 tons.
They handpicked hops for the last time 25 years ago in Přílepy, Rakovnicko region
At the beginning of the last century, 140 thousand pickers worked directly in the Zatec region during the harvest. They sometimes worked for 15 hours straight. The work hours were from "dawn to dusk." A harvest measurement was a 30 litre basket. Pickers usually filled eight to ten, though some of the more productive pickers filled fifteen.
During the second half of the century, this physically difficult work was replaced by machine work. "Hand picking of hops is a tradition that was part of Czech beer culture. It accentuates the importance of this raw material in the authenticity of Czech beer," explained Eva Kutílková, primary organiser of the seventh annual championship and a farm owner who has practised hops growing for many years. Adding: "I am glad that Gambrinus helped us to preserve this nice tradition. There would be no Czech beer without Czech hops."
Czech beer is bitter just right
Zdeny Malafova's commentary: "I've picked hops since my childhood. My personal record for a day is 27 baskets. I am proud of my victory since the competition was tough."
Antonína Panenka's commentary: "I've never gone to pick hops. I have enjoyed the championship very much. Josef Laufer, my friend Karolem Dobiáš, and I tried it for a short time, but I am not sure we would have lasted for hours as the contestants did. I am happy that Gambrinus supports not only soccer but this nice tradition as well.  Thus I can be sure that there are the right hops in Czech beer."
Josef Laufer's commentary: "I have not been at any hop field since the making of the movie. It has been 49 years now. I still remember the time and I am happy that the tradition is still alive."

Contact:
Vladimír Jurina                                                         
Brand PR manager                                                    
t.: +420 724 617 886                                                
e.: 

Notes for editors:
Gambrinus Premium beer was the only Czech beer awarded at the international tasting competition The International Brewing Awards 2013 – among the beer brewing palls known as The Brewing Oscar. 40 brew-masters from 16 countries evaluated more than 800 beers from all around the world. Gambrinus Premium won silver medal in the Classic Lager category.
The wide portfolio of Gambrinus brand consists of Gambrinus Original 10°, Gambrinus 11° Excellent, Gambrinus Premium light lager, and Gambrinus Dry with low content of sugar.Since 2012, Gambrinus added Gambrinus Crisp Lemon, and Gambrinus Lime & Elderberry products to its portfolio. These are mixed beer drinks. They are typical for lower alcohol content and refreshing taste.
Thanks to following the original brewing recipes typical for Czech beer, and also thanks to the use of traditional Czech beer brewing materials, Gambrinus is entitled to use the quality  trademark "Czech Beer."
History of Gambrinus brand goes way back to 1869. Gambrinus is beer that won hearts and minds of its consumers thanks to its high quality and preserving of original brewing procedures.
Gambrinus is part of Plzeňský Prazdroj Inc. portfolio.  PP is member of SABMiller plc. With its total sale of nearly 9.9 millions of hectoliters during the calendar year of 2011 (including licensed productions abroad) and with its export to more than 50 countries worldwide, Plzeňský Prazdroj Inc. is the preeminent beer producer in the region and the biggest exporter of the Czech beer.
SABMiller plc. is one of the world's biggest beer brewing companies with beer brewing activities or distribution in more than 60 countries across six continents. SABMiller portfolio includes important international Brands such as Grolsch, Miller Genuine Draft (draught), Peroni Nastro Azzurro, , Miller Genuine Draft (draught) and Grolsch, as well as the foremost local brands Aguila (Colombia), Castle (South Africa), Miller Lite (USA), Snow (China), Victoria Bitter (Australia), and Tyskie (Poland).
Plzeň