František Šťastný Is Remembered With an Original Helmet
14.10.2013
Radegast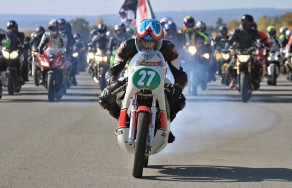 Vojtěch Staniš is a big motorcycle fan and he is also interested in its history. While thinking about the design of the helmet his inspiration came very quickly. František Šťastný is a very obvious inspiration for all motorcycle fans. "The helmet is in light blue in colour with the Czech tricolor in triangle shapes dominating the design. It is impossible to miss the number 1965 at the bottom of the helmet. This is the year of the very first Grand Pix Brno that was included into the calendar of the World Championship. It was a very important year for Czech motorcycle sports," said Vojtěch Staniš, describing his helmet.
Vojtěch Staniš always admired the famous rider and he also met him as a little boy. "I am very proud of this meeting. Mr. Šťastný is an iconic figure of our motorcycle sport and he is well known around the world. He was a fighter and he never skipped a race. He fought even for 7th place as though he were fighting for a victory. At the top of his career, world class names were interested in him and with them he could have reached the World Champion title. However, he stayed loyal to his Czech Jawa," said racer Vojtěch Staniš, as he proves his knowledge. He now races on more and more popular nature tracks.
Thanks to the Birell Helmet competition, now he can race his bike in a helmet reminding him of his big example. He received it from the hands of representatives of the Birell brand in Brno, where he took part in the Moto Show – Record event. The organisers have made two samples so everybody can have a chance to see the helmet.
Notes for editors:
Birell brand is a longtime leader among the entire category of nonalcoholic beer. IT is present on Czech market for more than 20 years.
The portfolio includes Birell Light, Birell Semi Dark, mixed drinks Birell Lime & Raspberry, and Birell Lemon & Pomegranate that has been introduced to the market this spring
The perfect taste of Birell is appreciated not only by consumers but in international competitions as well. Its last success is World Beer Awards 2012.
With its total sale of nearly 9.9 million of hectoliters during the calendar year of 2012 (including licensed productions abroad) and with its export to more than 50 countries worldwide, Plzeňský Prazdroj Inc. is the preeminent beer producer in the region and the biggest exporter of the Czech beer.
Plzeňský Prazdroj Inc. is the member of SABMiller plc. group. Pilsner Urquell is the international flagship brand of the SABMiller brand portfolio.
SABMiller plc is one of the most significant world beer companies with 70 thousand employees in 75 countries around the world. It offers more than 200 beer brands including the world renowned brand such as Pilsner Urquell, Peroni Nastro Azzurro, Miller Genuine Draft (draught) a Grolsch, as well as important local brands such as Aguila (Columbia), Castle (South Africa), Miller Lite (USA), Snow (China), Victoria Bitter (Australia), and Tyskie (Poland).
Contact:
Vladimír Jurina
Plzeňský Prazdroj
+420 724 617 886
Plzeňský Prazdroj in social media:
Twitter https://twitter.com/Prazdroj1
LinkedIN https://www.linkedin.com/company/plzensky-prazdroj
Youtube http://www.youtube.com/user/PlzenskyPrazdroj1
Brno