Pilsen Restaurant "Na Hradčanské" – a Glass Grill Instead of TV
24.4.2014
Uncategorized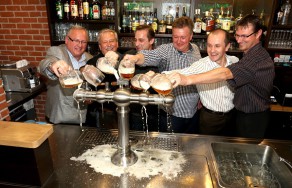 Prague Castle and Pilsner Urquell, all that is inscribed in the name of the Pilsen restaurant "Na Hradčanské" in Prague. It is located right next the Prague subway station of the same name, on a tourist path leading to the most popular Czech monument. After a several-months long reconstruction, the place has opened to the public, offering a unique gastronomical menu and Pilsner Urquell beer.
"Pilsner Urquell has been with us our entire professional lives, and so choosing the beer and building our restaurant around that theme was clear to us from the start," say co-owners Jaroslav Müller and Robert Cacák who have a rich experience running a food service business. "We wanted to build a pub according to our dreams. In 'Na Hradčanské' we could do that without compromise," they said, hinting at the state of the place they inherited from the previous owner, one which was in a dire need of a complete reconstruction. Pilsen Restaurant "Na Hradčanské" displays its loyalty to the flagship of the Plzeňský Prazdroj brands proudly. It is, however, not the only member of the large family of the brand's pubs. "We are very pleased that after the initial consultation with Prazdroj Comp. and the architects, we had a free ride to realise our own ideas about the image, and how to run the restaurant," added Müller.
The interior was designed by architect Lukáš Procházka and constructed by master carpenter Čestmír Koželuh to serve its purpose according to current demands while still reflecting the respect for traditions as required by Plzeňský Prazdroj. In every step, we see the attention paid to detail and functionality, and to guests' comfort. The total capacity is 80 people and the outside "garden" fits an additional 30 guests. The most requested dish is the grilled pork knees prepared in a basket grill. The grill is partially made from glass and it is inserted into the wall of the restaurant. TV sets with sporting events are not requested with that kind of view available here.
The fact that Pilsner Urquell is served right from the tanks is good not only for the beer itself but perfect when paired with Czech cuisine, a fact that is proven right here. In a mood for a goulash soup, a Viennese potato salad without mayonnaise, dumplings stuffed with dried apple or plums, or vanilla blancmange Germknödel? There is no need to travel to the Alps or Vienna to enjoy these delicacies. All you have to do is travel a few stops on train "A" and take off on "Hradčanská." Not only do they serve tank Pilsner Urquell beer on tap, but they also serve Velkopopovický Kozel Dark, non-alcoholic Birell, and apple cider Kingswood.
"Na Hradčanské" is open daily from 11:00 a.m. to midnight.
Pilsen restaurant "Na Hradčanské", Milady Horákové 123, 160 00 Praha 6, Czech Republic
Plzeňský Prazdroj press contact Kateřina Krásová is available to media at:
Mobile: +420 724 617 219
Email:
Notes for editors:
With its total sale of nearly 9.7 million of hectoliters during the calendar year of 2013 (including licensed productions abroad) and with its export to more than 50 countries worldwide, Plzeňský Prazdroj Inc. is the preeminent beer producer in the region and the biggest exporter of the Czech beer.
Plzeňský Prazdroj Inc. is the member of SABMiller plc. group. Pilsner Urquell is the international flagship brand of the SABMiller brand portfolio.
SABMiller plc is one of the most significant world beer companies with 70 thousand employees in 75 countries around the world. It offers more than 200 beer brands including the world renowned brand such as Pilsner Urquell, Peroni Nastro Azzurro, Miller Genuine Draft a Grolsch, as well as important local brands such as Aguila (Columbia), Castle (South Africa), Miller Lite (USA), Snow (China), Victoria Bitter (Australia), and Tyskie (Poland).
Contact:
Kateřina Krásová
Plzeňský Prazdroj
+420 724 617 219
Praha