Thirty-one thousand beer cans have been dispensed by beer vending machines over a six-month period
22.10.2007
Uncategorized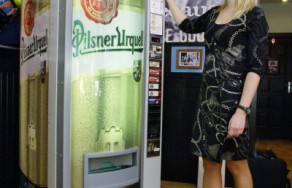 Unique beer vending machines have not been a target for vandals
Six months ago, a brand new channel for selling beer in cans was introduced to the Czech market – the so-called "Pivomat" beer vending machine. A unique Age Verification System that can check the buyer's age by reading their identification cards has been proven to be both functional and reliable. During a six-month period almost 150 hectoliters of beer were sold by the first trial machines in Prague and its suburbs. Velkopopovicky Kozel Light has been the most popular kind of beer sold through the machines. Vending machines placed in university dormitories were the most utilized, accounting for over half of the entire beer vending machine sales.
Vending machines have been installed mostly in lodging-houses such as university dormitories and hostels, where they provide a 24-hour beverage selling service. A small number of machines have also been installed in shopping centers. During a six-month period, 30,902 cans of beer have been sold. The most successful were machines placed in university dormitories, which sold 54% of all Pivomat beers despite the fact that only a quarter of all beer vending machines were in such locations. These vending machines sell over 1000 cans of beer per month.
"We are currently updating software for all beer vending machines to enable the machines to verify the buyer's age not only from foreign passports but also from foreign identification cards with computer-readable data. Surprisingly, no incidents of vandalism or malfunction have been recorded to date. According to university security, even students in dormitories have been very respectful of the machines, perhaps out of fear that the machines could be otherwise removed from the premises," added David Polnar, representative of Future Art, the company that supplies these machines to Plzensky Prazdroj.
Plzeňský Prazdroj, whose exclusive supplier of these machines is the company Future Art, sells all their brands of beer in their machines. The brands sold differ in accordance with local tastes, the non-alcoholic beer Radegast Birell is sold in all locations. "The sales of different brands of beer differ from one location to another. Hotels have shown most interest in the premium brand Pilsner Urquell, in dormitories Velkopopovický Kozel or Gambrinus sell more. It is not surprising that shopping centers sell mostly the non-alcoholic Birell," points out Vladimír Jurina, spokesman of Plzensky Prazdroj.
In the future the network of vending machines will be expanded in Prague and its surrounding areas. For example, in Kladno, where there is currently one machine, another two will be placed. The next city on the list is Pilsen, where two machines were placed for the Pilsner Fest at the beginning of October. In the near future, Plzen will have ten fully functional Pivomats.
Verification of age using computer-readable codes in the buyers' identification cards ensures 100% legal verification that the sales will be made only to persons over 18 years of age. In cases where the customer is underage, or age cannot be verified, the coins inserted in the machine will be returned. This kind of age verification has proven to be much more reliable than visual checks in stores or restaurants.
Contact:
Vladimir Jurina
Plzensky Prazdroj
724 617 886
Pilsen