Record Sales of Pilsner Urquell Beer in Armenia in 2008
18.12.2008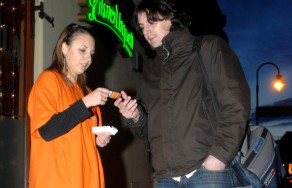 Czech beer has been sold in Armenia since before 1989 and Pilsner Urquell is a very well-established brand there. Sales of Plzeňský Prazdroj beer on the Armenian market have been growing since 2004, when SAB Miller's daughter company SHANTAN LTD. began managing its distribution. Armenia has 3.2 million inhabitants who annually consume an impressive 400,000 half-litres of Czech beer. Average annual per capita consumption is 5 litres.
"Armenians are partial to brand-name products. Armenian high society drinks only premium products. But less affluent people act the same – they prefer to buy an expensive, high quality brand. People buy Pilsner Urquell or Kozel even in small villages," says Jaroslav Souček of the Plzeňský Prazdroj Export Department.
Pilsner Urquell in particular is perceived as a super-premium product and is available in upscale restaurants while Kozel is perceived as a quality Czech beverage and is favoured especially among young legal age consumers. Kozel's success is strongly supported by its popularity in Russia. Owing to Armenia's pro-Russian orientation, whatever is popular in Russia (Kozel is the best-selling Czech beer in Russia) is usually successful in Armenia as well. Transporting beer to Armenia is problematic because it must be transported through Georgia, where political stability and security is an issue.
Pilsner House, the best pub in Armenia
Distributor SHANTAN LTD. regularly evaluates the best pubs in the National Quality League. The flagship restaurant in Armenia is Pilsner House, where both beers are available on tap. A speciality of this establishment is roasted crayfish from Lake Sevan, which is particularly delicious when paired with Pilsner Urquell. High quality beer is also available in the summer in many cafés in downtown Yerevan.
Notes to editors:
With total sales of over 10.9 million hectolitres in the calendar year 2007 (including licensed production abroad) and exports to more than 55 countries around the world, Plzensky Prazdroj, a. s. is a major beer producer in the region and the largest exporter of Czech beer.
Plzensky Prazdroj, a. s. is a member of the global group SABMiller plc. Pilsner Urquell is the international flagship of the SABMiller brand portfolio.
SABMiller plc is one of the world's largest brewers, with brewing interests or distribution agreements in over 60 countries across six continents. The SABMiller brand portfolio consists of international brands such as Miller Genuine Draft, Peroni Nastro Azzurro and Pilsner Urquell, as well as almost 200 other successful regional and national brands. Outside the U.S., SABMiller is one of the world's largest producers and distributors of Coca-Cola products.
Contact:
Jiří Mareček
Manager external communication
+ 420 724 617 219
Praha