Nosovice Cleaning Ponds Help The Ecosystem
3.6.2009
Company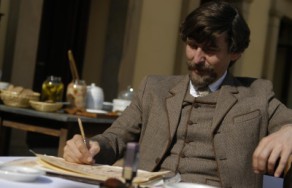 "In a sense, the Nosovice ponds are a unique structure. They were built as a system of connected ponds in the bottomland vegetation of the Morávka river meadow. This vegetation used to be a part of a branched Morávka riverbed. Due to landscape transformation and regulation of the Morávka stream bed, the former several hundred meters long riverbed narrowed, the river branches disappeared and became overgrown by bottomland forests. Construction of the ponds led to revitalization of the typical biotope of pools and periodically saturated terrain dips in a small area. We are witnessing a unique fusion of an artificial and purposefully-built construction with a natural environment of such a fragile ecosystem as the Sub-Beskid streams. In this habitat, we can now spot mainly representatives of amphibians and marsh species of plants," says Mgr. Petr Birklen from the Ostrava office of the Agency for Nature Conservation of the CR.
What is the purpose of the ponds? They primarily collect and clean the rain and drainage water conducted away from the Radegast brewery. The ponds are isolated from other waters, but the cleaned water flows off to Morávka river. The ponds were created by the revitalization and expansion of two idle arms of Morávka river and their connection with an artificially created riverbed full of meanders and bends with significant self-cleaning capability through physical, chemical and biological processes. The long-range goal of this unique project apart from final treatment of water is also to increase the biotope diversity in the Morávka river floodplain.
Over the past few years, native fauna and flora dependent on water and marsh ecosystems have been returning. The brewery also planted ca. 300 trees that originally grew in the habitat and belong there. Among the planted trees were for example European Bird Cherry, European White Elm, Norway Maple, European Ash, Small-leaved Lime, Pedunculate Oak, Wild Cherry and various species of willows.
"Bodies of water in the country always attract animals. In Nošovice ponds, wild geese have settled, frogs multiply and I have also spotted a hunting kingfisher," says Mgr. Petr Chytil from the Administration of Beskydy PLA. The area has gradually become inhabited also by representatives of threatened species such as Fire Salamander, Grass Snake or Edible Frog. The water also attracts Grey Herons and a muskrat inhabited the area of the lower pond for a couple of years.
Along with recycling, energy savings, CO2 and other emissions minimization, cleaning of industrial water and care for water resources in Plzeňský Prazdroj is part of the strategy for sustainable development.
Notes for editors:

With total sales of 10.7 million hectoliters in the year 2008 and with exports to more than 50 countries worldwide, Plzeňský Prazdroj, a. s., is the leading beer producer in the Czech Republic and the largest exporter of Czech beer. Plzeňský Prazdroj's main brands in the Czech Republic are Pilsner Urquell, Gambrinus, Radegast, Velkopopovický Kozel and nonalcoholic Radegast Birell.
Plzeňský Prazdroj produces beer in three breweries in the Czech Republic – in Plzeň brewery, Radegast brewery and Velké Popovice brewery.
The Plzeňský Prazdroj company fully understands its responsibility towards environment and has accepted the policy of environmental protection as one of its business principles. It engages especially in the care for water resources, industrial waters cleaning, minimization of CO2 and other emissions, recycling, energy savings and increasing efficiency of transport.
Plzeňský Prazdroj, a. s., is a member of SABMiller plc, one of the largest global brewing companies worldwide with brewing interests or distribution agreements in over 60 countries across six continents. Pilsner Urquell is the international flagship of the portfolio of SABMiller brands.
Contact:
Jiří Mareček
Manager external communication
+420 724 617 219
Nosovice