A coin from 1842 symbolizes the Kulaťák values, which live on in the never ending continuity of production of Pilsner Urquell lager
19.11.2009
Pilsner Urquell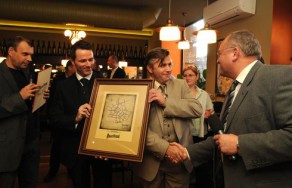 The grand opening celebration of the Pilsner Urquell Original Restaurant Kulaťák culminated with a toast, and the presentation of a symbolic gift.  Senior business brewer of the Plzeňský Prazdroj, Václav Berka, gave representatives of restaurant management a coin from 1842 on a copy of the historic architectural floor plan of Vítězné Square.
"We have been producing Pilsner Urquell in Plzeň since 1842. While the coin from this year is no longer valid and has lost its original value, the beer, which was brewed for the first time in the same year, has retained its value, even increased it, and is brewed to this day, and will continue to be brewed based on original recipes, using traditional ingredients. This is the secret to the success and long lasting value of Pilsner lager," Václav Berka explains the symbolism behind the artifact which will decorate the new Pilsner Urquell Original Restaurant Kulaťák, and adds: "It is fascinating to imagine all of the changes in Czech society since 1842. On the other hand, many things that were unique at the time have not retained their original quality; they did not need changing, and care should have been taken to maintain that initial level of quality."
Pilsner Urquell Original Restaurant Kulaťák
Vítězné náměstí 820/12      
Praha 6                                     
Ph. no: 773 973 037       
www.kulatak.cz,
Plzeňský Prazdroj, a. s.
Vojtěch Kleisner
Chain restaurant specialist
Plzeňský Prazdroj, a. s.
Prague