The winner of the national finals of the international competition for best bartender is Lukáš Svoboda from Prague's cellar Konvikt
10.8.2010
Pilsner Urquell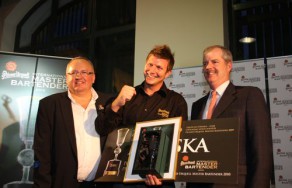 "I competed already on several occasions; I was even second in the world finals," said Lukáš Svoboda. "But I promise that this year I will finally bring the gold to the Czech Republic! I am sure that at the international finals, I will face stiff competition. I have the advantage, however, of having experience from the competition in New York in 2006."
The best 3 bartenders:
Lukáš Svoboda, Cellar Konvikt, Prague
Jana Zachariášová, VŠK Terč, Brno
Miroslav Vorlík, Restaurant Na Spilce, Plzeň
In addition to the certificate of participation in the national finals, all participants also received Pilsner Urquell beer and other gifts. Competitors who came in second and third places will visit Vilshofen, birthplace of the first brewer of Pilsner Urquell, Josef Groll. The national winner will also receive a trip to Denmark, which will include a visit to the pub where last year's winner works, one year's worth of free beer (730 Pilsner Urquell beers) and, of course, prestige for themselves and for the pub where they work. The world finals take place in September 2010, this time in Prague and in Plzeň. The winner of the international competition will receive 10,000 Euros.
"The standards of this competition are only going up," said senior business brewer Václav Berka. "The winner, Lukáš Svoboda, definitely has a good chance to place well amongst his international competitors. It is clear that bartenders all across the Czech Republic want to serve the Pilsner Urquell lager with excellence. We can brew beer the way it's supposed to be brewed, we can deliver beer the way it is supposed to be delivered and with the right taste. But if Pilsner Urquell isn't properly served – in the right glass, at the right temperature, with the right care and with bartender's expertise, who can differentiate regular beer from beer with a capital B –, it is obvious that customers are missing out on the full scale experience of the beer. In the Pilsner Urquell Master Bartender competition, bartenders compete amongst themselves, they can win valuable prizes, but they will also learn a lot. That is the aim of Plzeňský Prazdroj."
Two hundred and fifty one Czech bartenders registered in the Pilsner Urquell Master Bartender 2010 competition. First, participants had to be qualified on the Internet, based on their wit and knowledge of the subject. After general qualification, 35 best bartenders qualified in four regional rounds. The national finals was a competition of the best 20 bartenders.
The Pilsner Urquell Master Bartender competition is for all ambitious bartenders, female or male, who share enthusiasm for their trade and for the lager from Plzeň, Pilsner Urquell. In order for a bartender to become a world champion, he/she needs to be able to do more than just pour a glass of perfect beer. Potential winners will be charismatic, know how to present the drink in an interesting way and make it out to be phenomenal, and possesses thorough knowledge of the production and history of beer and how to care for it.
Contact Plzeňský Prazdroj, a.s.
Jiří Mareček
Manager external communication
Plzeňský Prazdroj
+420 724 617 219
Contact for the PR competition
Petr Pořízek
Public Relations
Cvetler & Pořízek
+420 602 680 123
Plzen