Plzeňský Prazdroj announces its sales results for 2010
17.2.2011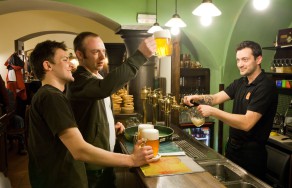 Doug Brodman, Managing Director of Plzeňský Prazdroj, comments the full year performance:
"Throughout whole year consumers have been facing uncertainty and economic pressures. The 33% excise tax increase on beer in combination with lower disposable income resulted in weakened consumption. Last year sales were also adversely impacted by lower on-trade traffic and the overall soft performance of draught beer in pubs and restaurants, which was further deepened by lower tourism. Despite this, share of our super-premium portfolio with flagship brand Pilsner Urquell grew. On international markets, we have managed to tackle the adverse situation and grew our exports year-on-year. "
Following a high growth two years ago, the 11-degree segment has continued to enjoy popularity, despite the overall market decline. The 'elevens' reported a moderate growth of 1%, underpinning the stable trend of premium beers. Mainstream brands sales were down mainly as a result of softening consumer demand in the on-premise channel.
Plzeňský Prazdroj launched a number of novelties last year, such as Master 15° Gold or Birell Semi-Dark. In packaging innovations, the Master special beer range gained much interest and generated a double-digit percentage growth in sales, also thanks to the bottle variants. The malt drink Frisco achieved a high growth in sales as well and the non-alcoholic beer Birell recorded a solid single digit growth. As an attraction for pub and restaurant visitors, the offer of beers on tap has been enhanced by seasonal unfiltered variants of the traditional Czech beers Pilsner Urquell, Gambrinus, and Radegast.
EXPORT
In adverse economic conditions, Plzensky Prazdroj managed to increase export by 6% selling to more than 50 foreign markets. Brand Pilsner Urquell enjoyed popularity on foreign markets, increasing volumes by 5% annually. Velkopopovický Kozel performed well, exporting to about thirty markets, representing an excellent 28% growth for the brand.
FUTURE
In the upcoming year 2011 Plzensky Prazdroj will develop activities to contribute to the stabilization of the beer market and further development of Czech beer culture.
TZ_Prazdroj_highlights_2010 EN [.doc, 195KB]
*Estimate by the Czech Beer and Malt Association
Notes for editors:
With total sales of 9.9 million hectolitres in the calendar year 2010 (including licensed production abroad) and exports to more than 50 countries around the world, Plzeňský Prazdroj, a.s. is a major beer producer in the region and the largest exporter of Czech beer.
Plzeňský Prazdroj, a.s. is a member of the group SABMiller plc. Pilsner Urquell is the international flagship of the SABMiller brand portfolio.
SABMiller plc is one of the world's largest brewers, with brewing interests or distribution agreements in over 60 countries across six continents. The SABMiller brand portfolio consists of international brands such as Grolsch, Miller Genuine Draft, Peroni Nastro Azzurro and Pilsner Urquell, as well as almost 200 other successful regional and national brands. Outside the U.S., SABMiller is one of the world's largest producers and distributors of Coca-Cola products.
Contact:
Jiří Mareček
Manager external communication
e-mail:
Tel.: +420 724 617 219
Plzeň