Gambrinus opens first pub to follow new concept of Seventh Heaven
31.3.2011
Gambrinus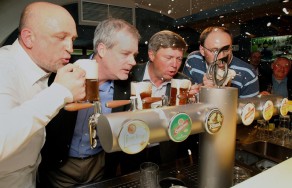 A superior contemporary pub
A superior contemporary pub is a term that perhaps best describes the focus and type of the beer concept Seventh Heaven. Here visitors will find Gambrinus draft beer, genuine Czech cuisine with a modern approach, excellent service and a grand environment. Therefore it is the ideal combination for pleasant get–togethers with friends for any occasion. Whether you get a drink or decide to dine, watch an important sporting event or throw a party, you will always feel like you're in seventh heaven. The operator of Seventh Heaven also decided that the pub is completely smoke–free.
"We would like for our Seventh Heaven establishments to reach all those who like to go out with friends for a beer but who also require a modern type of pub with excellent Czech cuisine, a contemporary approach and pleasant staff. Of course, it is natural that the first Seventh Heaven opened in Plzeň, the beer heaven of the Czech Republic, where Gambrinus beer comes from," said Martin Rosička, senior brand manager of Pilsner Urquell.
The first Seventh Heaven, in Plzeň, Bezručova 4, is located in a historic 16th-century building whose entire history is connected with beer. The historical archives mention it as a brewing house in May of 1800, and later, during the First Republic, it housed the Pilsner tavern known as the Morávek Pilsner Pub.
Original design
The original design of the facility combines the best of tradition and current fashion, just like Gambrinus, the most popular Czech beer brand with 140 years of history. Some elements of the interior design point to the traditional Czech pub, providing a timeless environment. Ton chairs, which have been in production for over 140 years, can be seen in the pub. However, the design and the overall feel of the restaurant are modern, using current technology and quality materials. The result is an inspiring interior with very appealing elements. The designer of the concept for Seventh Heaven is Studio Artcore of Prague (Master of Art Štěpán Kuklík and Master of Art Mája Rašková).
Seventh Heaven has unique interior and exterior elements, such as brand-name uniforms, original interior photography, special glasses and the exterior restaurant sign. The big attraction is the tap developed specifically for Seventh Heaven pubs.

Not only great beer, but also cuisine
Guests at Seventh Heaven can enjoy draft Gambrinus beer. One look at the menu, put together by a collaboration with the Czech Republic Association of Chefs and Confectioners, is proof that at Seventh Heaven one can satisfy more than just thirst. The original dishes' recipes come from Czech kitchens, but they also bring interesting varieties. There are both appetisers and main entrées, as well as a few specials to share with friends. Beer–based desserts are of interest.
Some specials from the Plzeň Seventh Heaven menu that are worthy of your attention are the excellent goulash soup served in a loaf of bread, the baked crispy beer knee, or beer jelly with raspberry sauce and homemade strudel.
Seventh Heaven will be in other cities
During 2011, additional Seventh Heaven pubs will open in major Czech city centres. Establishments of Seventh Heaven will function as standard forms of business cooperation, not as franchises. The locations of the facilities will be place similarly, at attractive locations in the centres of large cities.
For further information contact:
Anna Davidová, Pleon Impact, Cell: +420 724 060 440, Phone: +420 222 540 147-8
Vladimír Jurina, Brand PR Manager, Pilsner Urquell, Phone: +420 724 617 886
More information
Gambrinus Tradition
The Gambrinus beer tradition dates back to 1869, when the first Pilsner brewery was built near Burghers' brewery. The origin of the name comes from a patron of brewers, Duke Gambrin, whose official name was actually Jan Primus. His name was sometimes spelled Gan Primus, which over time became Gambrinus.
Today Gambrinus is the number-one beer in the Czech Republic, with the widest base of regular consumers. They especially praise the exceptional taste and guaranteed quality of Gambrinus.
Characteristics of Gambrinus Beer
Gambrinus Light fits into the Central European climate conditions, quenches thirst very well and provides a daily pick–me–up. The bitterness of the beer is fine, insistent, and perfectly balanced with the fine sweetness of residual unfermented extract.
Awards:
World Beer Cup 2010 – Second place
Pivex 2011 – First place
Gambrinus 11 ° Excellent is exceptional 11° beer. The basis for the production is a proven traditional Pilsner brewing process with two mashes and quality natural ingredients, including Pilsner malt that has been used for decades. This procedure was enriched by our brewers with caramel malt and, above all, with triple hopping. Gambrinus 11 ° Excellent offers an intensive experience with more frequent beer drinking.
Awards:
Consumer Choice – New Product 2009 in the beer category
World Beer Cup 2010 – Second place
Second place at the World Beer Cup 2010
Gambrinus Premium is a high–quality lager featuring a full, deliciously bitter taste and golden colour. This is the beer for true connoisseurs.
Awards:
Third place at the World Beer Cup 2008
Third place at the Australian International Beer Awards 2008
Pivex Gold Cup 2010 – Certificate of Quality
History of the Bezručova 4 house in Plzeň, where the first Seventh Heaven is located
History of the brewing pub house no. 126, Františkánská 10 in Plzeň
In archive documents, the history of house no. 126 goes back to 1594, and the current appearance of the classical Baroque house was obtained between 1719–1726, followed by the completion of the facade in 1772. This corner house was first mentioned as a brewing house in May of 1800, which means that beer was likely brewed there. More than a hundred years later, the Morávek Pilsner pub started its operation here, and it lasted until at least 1935. However, during the 1950s, the building was entrusted to the use of the socialist organisation Union of Consumer Cooperative Plzeň–South, and thus ended the tradition of a hospitality–oriented beer tavern. A Moravian winery was established here instead of tavern between 1967 and 2009.
1 Source: Mr. Peter Bukovský – Town Council of Plzeň, Department of Conservation, from archival materials of cooperative building society City of Plzeň and archival documents Archive of the City of Plzeň
Plzeň