ICT and Plzensky Prazdroj cooperate on the development of the Czech beer–making industry
9.5.2011
Company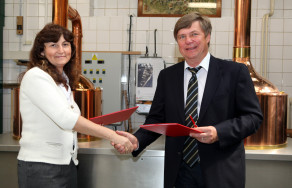 "The contract with the ICT is a document which deepens cooperation of two partners and guarantors who ensure that the beer–making industry is taken care of, whether it be theoretical aspects or practical improvements. We will now play a bigger part in the education process of young people who are interested in the industry and we will especially play a bigger part in the actual research," stated Jan Hlaváček, Head brewer at Plzeňský Prazdroj.
In the area of education, both parties committed to cooperate on topics for Master's and PhD. theses and on their drafting. Each academic year, Plzeňský Prazdroj will pay scholarships of 4000, 3000 and 2000 Kč (235.40, 176.5 and 117.70 USD) for the three best theses presented at the Student Research Conference. Author of the best Master's thesis will receive an additional 6000 Kč (353 USD), while the most valuable Bachelor thesis will receive 3000 Kč (176.5 USD). The best student in the PhD. programme in the field of beer malt will receive 10 000 Kč (588.50 USD).
"These two institutions have been cooperating for years. In the past, we cooperated mainly in the research and academic fields. This agreement is different because it focuses mainly on students and it supports their academic and professional development," stated prof. Ing. Karel Melzoch, CSc., Dean of the Faculty of Food and Biochemical Technology (FFBT).
Both partners agreed on cooperation in research and mainly in clearly defined areas – research of compounds in beer, hops and barley, their positive impact on the human body; colloidal and sensoric stability of beer; physiology of yeast, evaluation of its state and expressions; beer foam, measuring of its stability and possibilities for improvement; authentication of beer ingredients and beer; optimization of the composition of wort (due to possible contamination by fungi, mycotoxins, etc.).
A new textbook "Theory and Practice of Beer Making," was the result of previous cooperation between the ICT in Prague and the Gambrinus brewery in Plzeňský Prazdroj. The author was prof. Gabriela Basařová together with a team of experts. The modern textbook explains in 16 chapters the complex process of beer making. It discusses beer composition, technology, sanitation of production equipment, energy preservation and all that is connected to this field.The book is primarily for university students and professionals, but can also be for those who are interested in beer making. "The future of the Czech beer–making industry is in keeping traditional processes and their application with modern equipment," foresees the author of the book, Professor Basařová.
Notes to editors

With total sale of close to 9.9 million hectolitres in the 2010 calendar year (including licensed production abroad) and with export to more than 50 countries, Plzeňský Prazdroj a. s., is the leading producer of beer in the region and the biggest exporter of Czech beer.
Plzeňský Prazdroj, a. s., is a member of the SABMiller PLC company. Pilsner Urquell is an international flagship of the SABMiller portfolio of brands.
SABMiller PLC is one of biggest beer companies in the world, with activities and distribution in more than 60 countries on six continents. The group of SABMiller brands includes important brands such as Pilsner Urquell, Miller Genuine Draft, Grolsch, Peroni Nastro Azzurro and many more successful regional brands.
The Institute of Chemical Technology, Prague (ICT) is the highest academic institution of its kind in Central and Eastern Europe. It follows a more than 200–year–old tradition of teaching technical chemistry in the Czech Republic. Its tradition and strong professional potential predetermine it to form high quality professionals. Several Nobel Prize winners for chemistry contributed to the university both academically and with their research.
Faculty of Food and Biochemical Technology (FFBT) is the largest of four faculties of the ICT. The majority of brewers and other professionals who work in all Czech breweries are graduates from this faculty.
Department of Fermentation Chemistry and Bioengineering – its research focuses on the study of biotechnological processes in their entirety. The Department of Fermentation Chemistry and Bioengineering contributes to and coordinates a number of research projects focusing on the field of biotechnology, both on the national and international levels (COST, INCO Copernicus, EUREKA, CRAFT, EU Framework Programmes). It also contributes to solving problems at the Research Centre for Study of Extract Compounds of Barley and Hop.The Centre also takes part in solving the research goal of the Progressive Food and Biochemical Technology, which is identical to the goal for the entire FFBT.
The food industry and malting industry have a tradition and an important position at the Centre for Study of Extract Compounds of Barley and Hop. This field meets all that a top university programme should include: close connection of research, education and cooperation with companies in the industry. Graduates from the Major can find employment in Czech and international breweries. Besides a fully equipped laboratory, the Centre has a partially functioning brewery which was recently modernised.
Contact information:
Mgr. Ivana Picková
Head of the Communications Department
The Institute of Chemical Technology, Prague (ICT)
Technická 5, 166 28 Prague 6
Ph.no: +420 444 159, +420 733 690 543
Jiří Mareček
Manager external communication
Plzeňský Prazdroj
Ph.no. +420 724 617 219
Prague