This summer, the winner of the beer Oscar, Master 15° Gold, will be served from barrels for the first time
23.5.2011
Uncategorized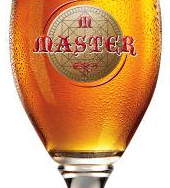 Master 15° Gold was launched on the Czech market in 2010. By February 2011, it had already distinguished itself by receiving a gold medal from the prestigious beer tasting competition, Brewing Industry International Awards 2011, also called "Oscars for beers".
"We value the win in this competition, and in order to celebrate this success we decided to provide our consumers with a tap alternative of the Master 15° Gold beer in its special summer limited edition," says Karel Kraus, Senior Brand Manager of the Master brand.
Masters are special Czech beers brewed from the highest quality ingredients. The Master brand was launched on the marked in 2007, with Master 13° Amber and Master 18° Dark, both available in barrels only. In May 2010, both speciality Master beers were also introduced in bottles, and a newcomer, Master 15° Gold, was launched. It is considered to be one of the bitterest beers on the Czech market.
Master abroad
Plzeňský Prazdroj began to export its Master brand of speciality beers in 2007. In the first four months of this year, it exported 280 hectoliters of all its variations, double the volume exported during the entirety of last year. The Master speciality beers are especially popular in Spain, where demand has been steadily rising since their introduction into that market in 2008. Starting in April of this year, Master is also exported to Slovakia, where it has also been accumulating more and more fans.
Master Amber 13O
Taste profile:
Master 13° is a beer with three kinds of malts and an amber colour. The great hops from Žatec add a noticeable beer taste and an aroma of hops to the beer. The well known taste of the best light malt is boosted by Bavarian malts, with a hint of caramel to create the honey colour.
Its role with food:
Thanks to its taste profile, it is a great addition to dishes from modern Czech gastronomy.
Master Gold 15O
Taste profile:
Master 15° Gold is special light beer with three kinds of malts and a honey golden colour. It is a full body beer with the distinctly bitter taste of the phenomenal hops from Žatec with a
light aftertaste of caramel.
Its role with food:
One of the bitterest beers on the market, it is great as an aperitif, since it increases our appetite.
Master Dark 18O
Taste profile:
Rich in flavour and aroma, Master Dark 18° is a speciality beer made from four kinds of malts. Renowned hops from Žatec give this beer a pronounced hops aroma with an incredible bitter taste; a unique combination of four kinds of malts then add a rich taste of caramel and a rich dark colour.
Its role with food:
It is best as a digestive or as dessert, which will bring a perfect end to your meal.
Prague