Prazdroj supplies beer to 85 summer festivals
21.6.2011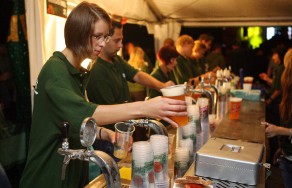 Gambrinus is the most common brand at musical festivals, and this year it will quench the thirst of visitors at 80 major musical events. Gambrinus has been a partner of some of the most renowned festivals for years now. For example, the cooperation with Noc plná hvězd in Třinec started in 1995 and still continues today.
"Besides the usual support of major music festivals such as United Islands in Prague, we'll also accompany the summer and autumn tour of Tři sestry, which will be inducted to the Beatová síň slávy (Rock Hall of Fame) this year. On top of that, the band's front man performs in a Mr. Beer costume, which is really cool. Our beer will also be available at other musical events, like the concerts held on the beautiful grounds of Loket nad Ohří or at Buchlovské léto," says Vladimír Kleisner, Pilsner Urquell manager, who oversees this area at Prazdroj.
Several hundred hectolitres of beer are drawn at events that see up to tens of thousands of visitors, and this places heavy demands on securing tents and taps and maintaining the quality of the beer. That's why Prazdroj considers conditions on–site and, along with organisers, seeks ways to store the beer optimally for the best possible conditions when serving. The proper placement of the taps has to correspond with the anticipated attendance. Prazdroj calculates the number of kegs and taps based on experience from past years. Beer offerings are based on the programme, the performers' appeal, the musical genre and the location. Of note is the utilisation of relatively up–to–date weather forecasts, which affect not only the volume of beer but also the types of beers offered.
There are up to 200 taps at the largest and most visited festivals. In necessary cases, such as two large festivals overlapping, Prazdroj can use almost 500 taps at the same time. This allowed the drawing of a record–breaking 150,000 beers without a hitch at one of the largest open-air musical events in Western Bohemia, last year's Pilsner Fest.
Such good service and expertise has received praise from festival organisers. "We have been cooperating with Plzeňský Prazdroj since the festival's beginnings, and we are very happy with its approach. The technical background for these events plays an important part, and I daresay Prazdroj's is the best among all breweries," said Pavel Mikez, the main organiser of the Benátská noc festival.
This year, the beer in Plzeňský Prazdroj tents will appear at approximately 300 events, with an expected attendance of 1.5 million visitors and an estimated output volume of 19,000 hectolitres of beer, including the nonalcoholic Birell. For this season, Prazdroj once again plans to use its special thermally insulated beer tanks, especially at giant events such as Masters of Rock at Vízovice. At all these events, only organisers or catering staffs will serve beer.
Notes for editors

With total sales of close to 9.9 million hectolitres in the 2010 calendar year (including licensed production abroad) and with exports to more than 50 countries, Plzeňský Prazdroj is the biggest producer of beer in the region and the biggest exporter of Czech beer.
Plzeňský Prazdroj, a. s., is a member of the SABMiller plc Company. Pilsner Urquell is an international flagship of SABMiller brands.
SABMiller plc is one of the biggest global brewing companies worldwide, with brewing activities and distribution in more than 60 countries on six continents. SABMiller's brand group include such important brands as Grolsch, Miller Genuine Draft, Peroni Nastro Azzurro and Pilsner Urquell, and almost 200 successful regional and national brands.
Contact:
Jiří Mareček
Manager external communication
Plzeňský Prazdroj
+420 724 617 219
Plzeň