Communities
"I believe that companies should join forces and strive for a better society. They should not be afraid to address society-wide themes. To the contrary! The strength of our brand may help open a discussion over what bothers us most, and we can set an example, too. As the Radegast brand manager, I would like to say that the project called Radegast to the People has been one of the key pillars of our communication for the past 5 years. The project is aimed at the development of the Beskydy Mountains, the home of Radegast beer, and the preservation of their natural beauty for generations to come. I believe this approach should be adopted by every brand."
—Marek Grabovský, brand manager
We have been a good
neighbour since 1842
million
was distributed through our grants program last year
The old brewing-rights holders and their successors have always honoured their ties to the City of Pilsen. For example, they paid more than half of the costs for building the Pilsen Barracks (1804 to 1826). The same can be said about the Municipal Theatre (1832). The brewery has contributed to wounded war veterans, orphanages, the repairs of cultural monuments, etc.
The brewery continues to be a good neighbour and a co-creator of today's city. Moreover, the company brings the same attitude to Velké Popovice and Nošovice.
Through our grant programmes, Prazdroj to the People, Kozel to the People and Radegast to the People, we supported 22 community projects in the neighbourhoods of our breweries with a total value of CZK 4,700,000 in 2018.
Kozel to the People
Seznam neziskových organizací
Název projektu
ZO ČSOP Velké Popovice
Clean water at Velkopopovicko
Basic Music School of Josef Lada in Velké Popovice
The new fairy-tale musical "O ptáku Ohniváku a lišce Ryšce"
Nové Habří,z.s.
Workout ground
KAMENICKO Union
Learn about Kamenicko
Velkopopovická společnost, z.ú.
Sustainable development for ceramic-mosaic workshop in Velké Popovice
SH ČSM – Volunteer firefighters at Lojovice
Repair of historic engine Ebert
Dětenický betlém, z.s.
Rescue Dětenice Nativity
Radegast to the People
Seznam neziskových organizací
Název projektu
Club of Czech Tourists
Improved quality of wastewater treatment from summer cottages and buildings on the mountain Lysá Hora
ČSOP Salamandr
What Radegast guards
Silesian Railway Association
Special trains to Radegast brewery
KČT, Beskydy Section
New Radegast entry to Prašivá cottage
Ski Park Grůň
Tent acquisition for activities at Pustevny
Junák
Renewal completion of the Scout tumulus Ivančena
Prazdroj to the People
Seznam neziskových organizací
Název projektu
POST BELLUM, o.p.s.
A century of women
Pěstuj prostor, z.s.
Pilsen Architectural Manual (PAM)
Pap-rna
Gallery community clubroom with background for creation and sales festivals
Hidden Pilsen
Hidden city – neighbourhood walks
Plzeň 2015, z.ú.
BLIK BLIK 2019 - festival of light and art in public spaces
Auto*Mat, z.s.
By bike to work 2019
CONEXIS z.s.
Pilsen Busking Fest 2019
PaNaMo
Summer theatre in the open Pilsen air - 12th edition
Pilsen Episcopate
Revitalisation of St. Bartholomew Cathedral in Pilsen
Over the 17 years of organising our grant programmes, we have supported more than 200 projects and distributed more than CZK 96 million.
We believe that companies should highlight societal themes. Our portfolio includes 12 brands, half of which highlight social issues and contribute to their solution:
Birell – Together We Are Unstoppable
The Czech and Slovak project entitled Nezastavitelní (The Unstoppable) started in 2014 under the title Birell jízda (Birell Ride). The Birell brand is its main initiator and sponsor. For everybody who passes through the special Birell gate, we add CZK 5 to The Unstoppable account.  In 2018, we thus managed to gather funds in the amount of CZK 1,437,800 in the Czech Republic and Slovakia. Thanks to this, we were able to help 21 handicapped athletes acquire equipment they could not afford on their own. The project involved nearly 144,591 individuals.
Gambrinus – Getting the ball rolling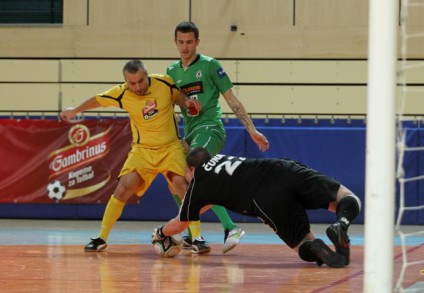 The Gambrinus brand has long been connected with football and its development. In 2017, we made a radical decision when we discontinued our sponsorship of the Czech national team and the first league. Instead, we began to support purchases of sporting equipment for amateur teams, and we also pursue projects to support local communities that are connected with football.  All that under the grant project entitled Getting the Ball Rolling. In 2018, we subsidised 51 amateur clubs across the country, distributing a total of CZK 2,007,415 among them.
Pilsner Urquell – Auction of Art-Design Bottles
The year 2018 was a record-breaking year for the Pilsner Urquell brand and for the charity auction of specially designed bottles, which has become a tradition. This year, the bottle design was inspired by the 100th anniversary of the founding of the independent Czechoslovak state. We managed to raise the largest amount of money in the history of the auction, CZK 2,759,988, or 64% more than last year, for the Paraple Centre. The most expensive original bottle designed by Václav Mlynář and Jakub Pollág of deFORM studio was sold for an incredible CZK 700,000. The whole proceeds of the auction were donated to people with damaged spinal cords and their families.
Kopparberg – SWAP Event
Kopparberg has dealt with sustainable fashion for a long time. Last year, they organised a Prazdroj corporate collection of clothing, which they then transported to one of the largest SWAP events in Space 39 in Prague, where people can exchange clothing they do not need any more with others and obtain new articles without unnecessary shopping. The collection amounted to 120 litres of clothes.
Our activities help fulfil the following goals of sustainable development: