Customers
"Czech pubs have always played a special role in Czech society. They have been a meeting place for friends, neighbours, families or business partners. In recent years, the numbers of pub visitors have decreased, which I personally see as great pity. That is why we have decided to elevate the tradition of Czech beer culture, improve the pub environment and, above all, the quality of draft beer. We cooperate with restaurant and pub owners, advising them how to optimise their offer, improve the interior and correctly maintain the taps and serve beer with its typical crisp taste."
—Václav Berka, Head Brewmaster Emeritus
Concept pub – an ideal place for meetings...
Our over
concept pubs
will leave an excellent beer impression on you.
For several years, Plzeňský Prazdroj has been successfully developing so-called concept pubs and restaurants. Apart from state-of-the-art dispensing equipment, we offer the owners assistance in designing the entire establishment. This also includes the opportunity to use our registered designs and the visuals of our beer brands,  such as a goat's head above the tap, or the excellent tank beer, a symbol of a modern pub and the future of Czech beer culture.
Concept restaurants include:
Pilsner Urquell Original Restaurant (Pilsner Urquell)
Plzeňka (Pilsner Urquell)
Original 1869 (Gambrinus)
Srdcovka (Gambrinus)
Kozlovna (Velkopovický Kozel)
Radegastovna (Radegast)
We work systematically with our customers, going the extra mile for them. Why? Well, to further develop Czech beer culture.
In 2018, we prepared the following new developments for them: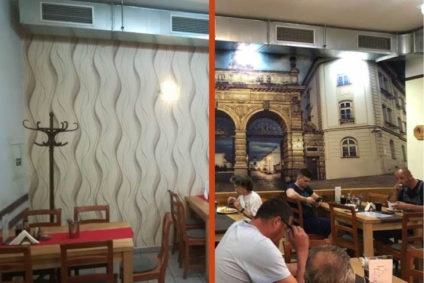 THE WALL 2.0.
We not only concentrate on the development of concept pubs and restaurants, we also help improve the appearance of the interior and lately also exterior of our customers' establishments. Last year, we improved interiors and walls with wallpaper and other elements in 337 establishments. We also commenced improvements to the exteriors and facades of establishments; before winter, we managed to repair 38 of them and additional ones are planned for 2019.
Beer Gastro Academy
In cooperation with the modern training centres of Makro, we introduced a new programme – the Beer Gastro Academy. In the first year of its existence it was attended by 392 owners, cooks and operation managers from 98 establishments.
Village Project
We have been monitoring the recent unfavourable trend in closing our village pubs, which kills the social life in villages. Our Village project tries to revive social life in towns and villages and restore their traditions and conventions. Thus, in cooperation with local pub owners, we are preparing various events supporting meetings of locals, including celebrations of Carnival, Easter and St. Wenceslaus Day, as well as summer grilling.
Can you pour beer with a wonderful crisp taste?
It is said that the brewer brews the beer, but the bartender makes it. A bad bartender may totally spoil a perfect beer. Plzeňský Prazdroj supplies beverages to about 22,000 restaurants and pubs.  Given the premium nature of our products, it is only logical that we are the leaders in providing training to bartenders.
Presently, there are five Plzeňský Prazdroj Sales Brewmasters helping our customers pour beer properly. In this effort, they are joined by as many as 40 external workers – experienced bartenders – on an ongoing basis.
Our Draft Beer Workshop is among the most appreciated forms of support offered to our clients. It is completely free for them. Their only investment is their time.
Master Bartender
the total number of customers from the ranks of pub and restaurant owners who participated in our training programmes in 2018.
If you want people to learn something and then do it really well, you should give the best of them proper recognition. We select the best bartenders every year in the Pilsner Urquell Master Bartender, Gambrinus Master Bartender and Radegast Master Bartender contests.
We also support our customers with advisory services in legislative issues that very strongly affect pubs and restaurants. We also advise them how to react when their pub is visited by a person under 18 who wants to buy alcohol. In 2018, we distributed information packages to more than 3,000 pub owners and prepared for them an instructional video on what to do when a child or an adolescent comes to the pub and insists on being sold a beer.
And last but not least, for the third year we also continued our successful programme Volba sládků (Brewers' Choice). It is intended for selected pubs and restaurants with an excellent standard of beer care, thus motivating the entire segment towards a higher quality of service.
We help retailers, too
Our Shelf Programme has already helped more than
Selling beer in a store does not require the same skills as pouring it properly. That said, bottle placement, shelf layout, or, in general, arranging the goods in a clear and aesthetic way is a skill on its own. Hygiene and cleanliness are equally important. That is why we offer retailers our "Shelf Programme", in the context of which we invest tens of thousands of crowns in the renovation of the whole beer sections of retail shops. We thus help retailers improve their shops so that customers feel as good as possible in them.
Our activities help fulfil the following goals of sustainable development: